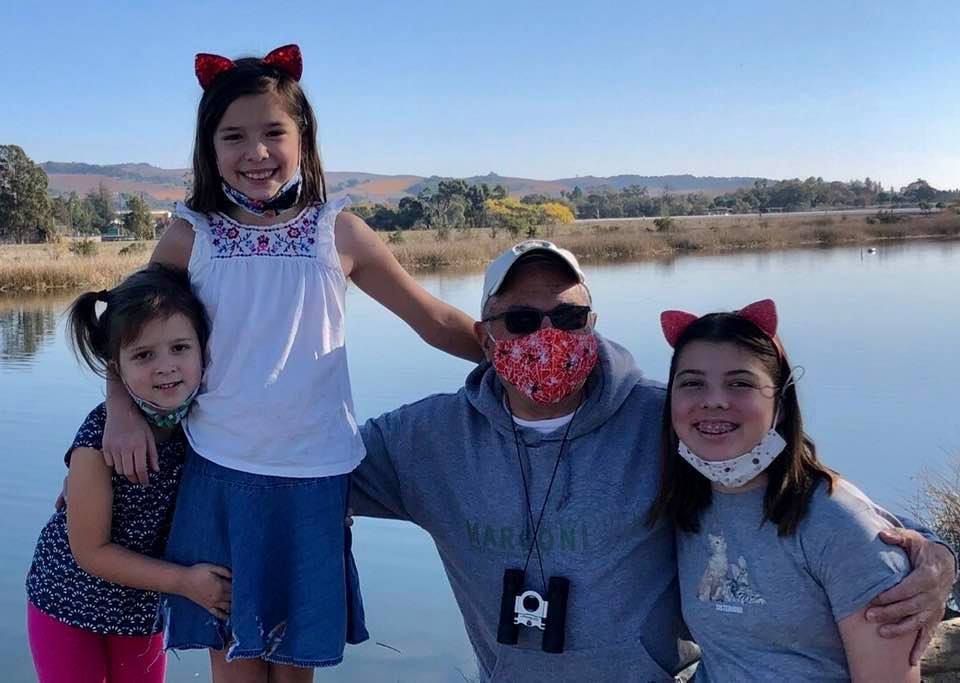 I love January, and not just because it's the month that includes my birthday. The days grow longer and brighter, little by little, and in those lingering rays of sunlight, I can see some flashes of hope.
My neighbors in Northern California, and friends & family in New York and on the East Coast, are beginning to get their first doses of the COVID vaccine. We're in the "I B" group (over 65) and have to wait just a bit longer. But help is on the way.
For my birthday, I love to give gifts to the people, or causes, I love. This year, thanks to the first round of our Federal Stimulus Checks being directly deposited into our bank account around my birthday, I was able to do both.
During my birthday weekend, which was our own COVID "bubble's" Pizza, Pasta and Carvel Ice Cream cake weekend, I asked each of my granddaughters — ages 11, 9 and 5 — to pick their favorite charities, to which I would make a donation in each of their names.
The two older girls picked the Trevor Project, one of the finest non-profit organizations in the country, aimed at helping LGBTQ teens feel comfortable and secure with their own identities. They learned of the Trevor Project from a young pop star from Oakland, CA, named "Maia", or as she is known to her fans, "MxmToon." Maia has identified as bisexual, or queer, has an incredibly beautiful voice, has already cut three or four albums, and is an articulate advocate for social justice.
Their choice of the Trevor Project delighted me, since I had made many contributions to the organization in the past, and recounted to them when I attended a fund-raiser in NYC, featuring Cindy Lauper as one of the headline entertainers.
"You mean the Cindy Lauper in the skin commercial?" said my oldest granddaughter, age 11.
"Yes," I said. "She's in that commercial for a drug that treats Psoriasis, but she was as popular a singer then as Maia is today. And, her voice was — and still is — just as good."
"Really?" Grampy said the oldest, rolling her big beautiful eyes, saying "OK, Boomer," without actually uttering those words. It's a running joke between the two of us.
I told them how Cindy Lauper sang and entertained us for four hours at the Trevor Project Dinner, leaving the stage, and going from table-to-table, where she sang songs to each of us.
"You know, " I said, "her first biggest hit, like "Maia's Prom Dress," was "Girls Just Wanna Have Fun." Then, she followed that with "True Colors."
I proceeded to sing a few bars of "True Colors", living up to my nickname as "The Singing Bush."
"Oh," said the oldest, eyes brightening with recognition, "that's the theme song in the Troll movie!"
I laughed and decided to save the information about Cindy Lauper's sensational performance in Brecht's "3-Penny Opera," when we saw her star in it with Alan Cummings at Studio 54 in New York.
But my granddaughter's luminescence and that of her sisters, ages 9 & 5, didn't stop glowing there. The youngest decided that she wanted her special gift to go to a local Sonoma County homeless organization, especially "because of Corona Virus," she said. They've taken to calling people without masks, "The Corona Brigade."
The four of us sat around their dining room table chatting about the world and lots of other things, coloring and drawing, long into a January afternoon. We talked about words (their father is a writer) and the oldest decided that the worst bad word anyone could ever call anybody else was the "N-word," which her younger sisters had never heard. They didn't hear it then either, because their big sister simply refused to say it, she thought it was so terrible.
I looked at each of them and smiled, and realized that maybe, just maybe, there was hope for this often dark and scary world, after all. Together, we continued to talk and draw and watched the sun come in through the dining room windows, and bathe their two cats in its warm embrace, and I never, ever wanted that moment to end.