(Reposted from my "Radical Correspondence" Blog of January 7, 2015)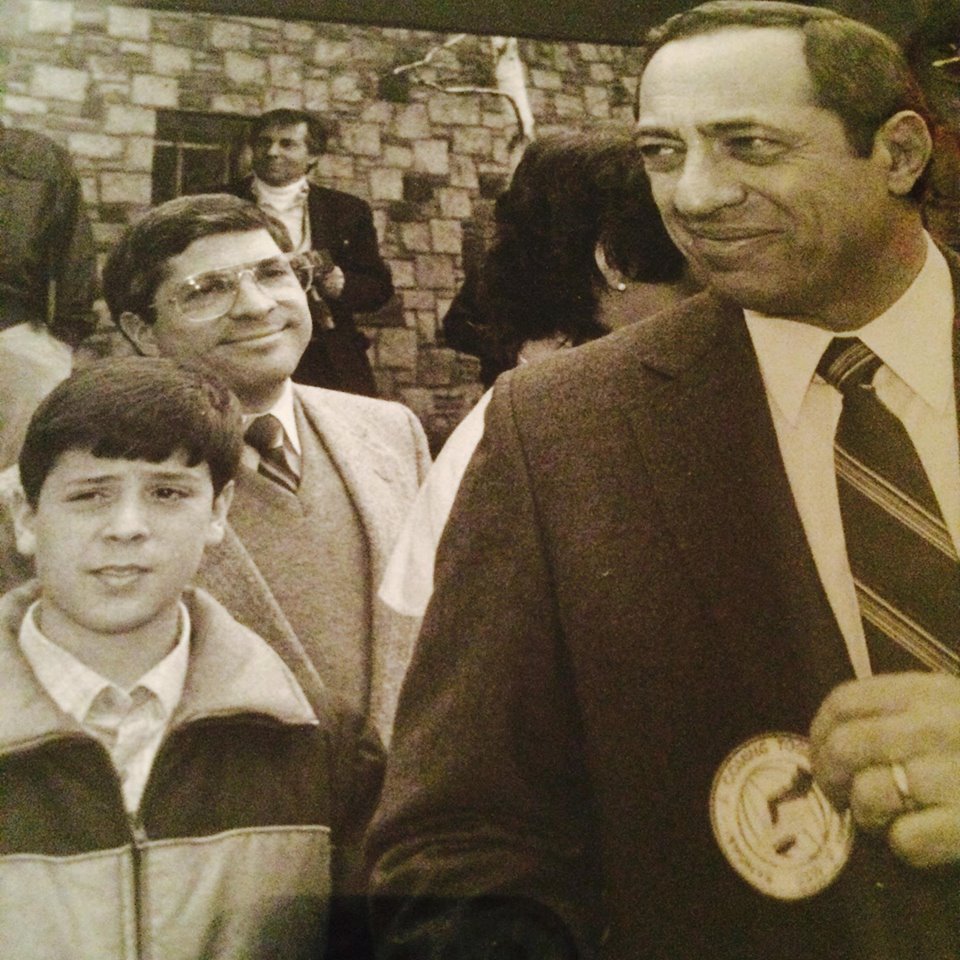 (Mario Cuomo, me and my son, Matt Villano, following an event 30-years ago where Cuomo inspired young people to be part of something bigger than themselves)
Mario Cuomo died this week, and Andrew Cuomo was re-born.
Andrew Cuomo's simple and eloquent eulogy to his father on January 6, 2015, was a bold and loving seizing of the the torch of humanist leadership his father ignited 33 years ago. In a remarkable love song to Mario Cuomo, Andrew Cuomo became his father.
That chiseled, stately, large and determined face was the same look I witnessed up close on Mario Cuomo, many, many times. Snow falling on Andrew's dark hair, and dark suit, dramatized the somber yet historic nature of what was about to happen even more. I witnessed Mario Cuomo prepare for, and deliver, hundreds of speeches during the eight years I worked with him; I studied each line in Mario Cuomo's face as he read each line of his speeches, and as he black-lined out others. Getting what he "needed to say" just right was of great importance.
Up until this week, few of Andrew Cuomo's speeches were memorable. Actions counted more to Andrew than words. Speech-making was often just another tool in the second Governor Cuomo's operational repair kit for government. All that changed with Andrew's eulogy for his father.
For once, Andrew Cuomo's words and emotions moved us, and, more importantly, they may have moved him toward his father's progressive, other-centered, enlightened form of leadership. Andrew's words, personal and powerful, were a radical departure from his pedestrian prose of the past. His words were transcribed from his heart to the page from which he was reading, just as his father advised.
"Mario Cuomo was at peace with who he was and how he saw the world. This gave him great strength, and made him anything but a typical politician," Andrew Cuomo said, after recounting his father's advice about speechmaking to him. "Who cares about what the audience wants to hear; it's not about what they want to hear–it's about what you want to say."
"And that, my friends," Andrew Cuomo said to a church-full of mourners, including Bill & Hillary Clinton, "was the essence of Mario Cuomo.
He was not interested in pleasing the audience: not in a speech, not in life. He believed what he believed and the reaction of the audience or the powers that be, or the popularity of his belief was irrelevant to him."
Andrew elaborated: "He wasn't really a politician at all. Mario Cuomo's politics were more a personal belief system then a traditional theory. It was who he was. Not what he did. My father was a humanist. He had strong feelings of right and wrong based on his religion, philosophy and life experiences. He was very concerned with how people were treated and that was the arena that drew him in…."
Then, Andrew Cuomo shared the essence of Mario Cuomo: "At his core he was a philosopher and he was a poet, an advocate and he was a crusader. Mario Cuomo was the keynote speaker for our better angels. He was there to make the case, to argue and convince, and,in that purist he could be a ferocious opponent and powerful ally. And, he was beautiful. He believed Jesus' teachings could be reduced to one word, and the word was love. And love means acceptance, compassion and support to help people.
Then, Andrew Cuomo gave everyone insight into his relationship with his father: "It is this simple. I was devoted to my father, from the time I was 15 joining him in every crusade. My dad was my hero, my best friend, my confidante, my mentor. We spoke almost every day and his wisdom grew as I grew older. . But we carried the same banner. I helped him become a success and he helped me become a success and we enjoyed deeply each other's victories and we suffered the pain of each other's losses. My only regret is that I didn't return from Washington to help in his 1994 race. Whether or not I could have helped, I should have been there. It was the right thing to do and I didn't do it." Powerful, and deeply personal, and unlike anything Andrew Cuomo has said before.
"Why didn't he run for President, people asked? Because he didn't want to," Andrew Cuomo said. He was where he thought God wanted him to be. For Mario Cuomo, the purpose of life was clear — to help those in need and leave the world a better place."
"I believe my father's spirit lives," the son said, citing family and community examples. "I will listen for your voice. You taught us well, you inspired us, we know what we have to do and we will do it. On that, you have my word, as your son. I love you pop, and always will."
Posted in Latest News, Uncategorized | Leave a reply