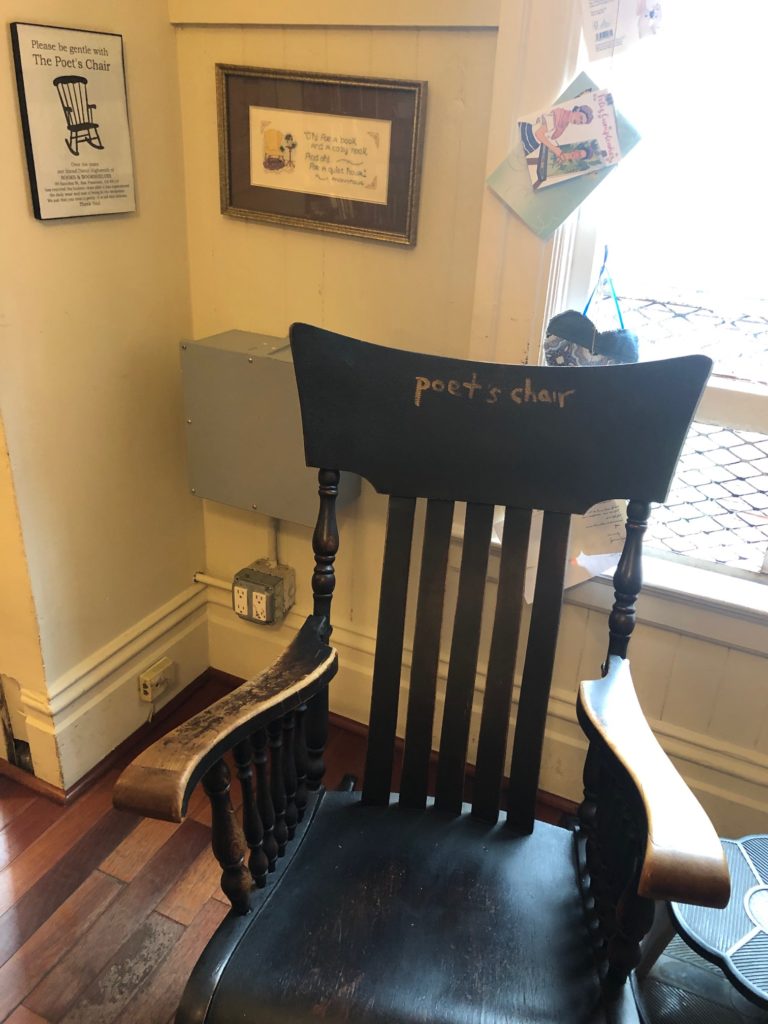 I never met Lawrence Ferlinghetti, but I did sit in his worn rocking chair — "the Poet's Chair," as it was inscribed — upstairs in San Francisco's City Lights bookstore, which Ferlinghetti co-founded nearly 70 years ago.
I sat in his seat and looked around at the stack of books that embraced him every day, holding his newest work, a novel entitled "Little Boy" on my lap, published just in time for his 100th birthday, two years ago this month.
I had just completed a book tour for my own memoir, "Tightrope," in the year I turned 70, and wanted some of Ferlinghetti's longevity as a writer to seep up through his chair, up through my butt, and keep me writing for the next 30 years.
His books of populist poetry, Coney Island of the Mind, Pictures of the Gone World, and A Far Rockaway of the Heart, appealed to me by their approachable names, and revealed to me the depths of my own unapproachable despair which I hid well from others behind a smile, outward optimism and good grooming. Ferlinghetti saw me for who I was.
So when I learned that at 100 years old, he had written a novel about his boyhood, and his life, I rushed to his book store to buy his book, sit in his chair, soak up his spirit, and start reading right there — on the very spot where Ferlinghetti wrote and read for hours without end. I hoped he would not appear, necessitating an awkward conversation; I simply wanted to get lost in his thoughts and mine, without interruption.
A dozen or so pages into the book, as I settled into the Poet's chair, I was blown away by the Poet's description of himself as Little Boy:
"AND, Little Boy, grown up after an endless series of confusions transplantation transformations instigations fornications confessions prognostications hallucinations consternations confabulations collaborations revelations recognitions restitutions reverberations misconceptions clarifications elucidations simplifications idealizations aspirations circumnavigations realizations radicalizations and liberations as Grown Boy came into his own voice and let loose his word-hoard pent up within him…"
The paragraph exploded again and again in front of me. As my pace of reading it and re-reading it picked up, so did the rhythm of my rocking in Ferlinghetti's chair, as if I were drumming his mantra into myself. No, this was not Ginsberg's Howl, which City Lights courageously published, with Ferlinghetti risking imprisonment to win a monumental victory for free speech. It was a heart-to-heart talk from Ferlinghetti to me, a 100 year old writer mentoring one 30 years younger. Reading it, made me feel like a little boy. I was Lily Tomlin's "Edith Ann" sitting in a rocking chair way too big for me.
The breadth of Ferlinghetti's life always mesmerized me, from the volume of poetry and other writings he turned out, year after year, for 70 years; to the hundreds of writers he nourished with his own publishing company; to the courage he demonstrated rescuing American troops on D-Day, and the strength he showed in remaining a life-long pacifist after witnessing, in person, the nightmarish aftermath of US atomic bombs vaporizing Hiroshima and Nagasaki, and the hundreds of thousands of human beings living in those Japanese cities.
He wrote of how he felt like "kissing the ground when I landed in Normandy June 1944," how he questioned the plot of his life and "this novel, if not the remembrance of things still not past for the past is but a cautious counselor of what has yet to come…"
Fearlessly, Ferlinghetti revealed his journeys deep into the "dark workshops the bottega oscura in each of us where poetry is self born where heart's poetry first generates in hidden caves the dark bodegas of self…" He longed for a peaceful world where dissent was no longer necessary, but inherently understood the necessity of seeking and speaking the truth in the face of unspeakable evil.
A few short months after Trump became President in 2017, Ferlinghetti, then 98, penned a short, powerful poem for The Nation, entitled "Trump's Trojan Horse:"
Homer didn't live long enough
To tell of Trump's White House
Which is his Trojan horse
From which all the President's men
Burst out to destroy democracy…
Ferlingetti's unencumbered lyricism swept me up in its currents, and in a nod to his influence, I channeled his style and cadence in a piece I had published on singer/songwriter/social activist Harry Chapin late last year:
"Chapin's life was, at it's core, a love story — a complicated, triangulated, convoluted, undisputed, multi-generational, non-denominational, big-brotherish, earth-motherish, Bohemian-maniacal, Yankee Puritanical, serendipitous, so ridiculous love story that it could just as well have been fiction, or the subject of one of Harry's own story songs. But, it was a love story as real as life, with roots as deep as roots can reach, and lots of reminders that it happened, and was not just imagined."
I sat in the Poet's Chair and felt his presence, still living, still loving, still fighting hard for justice, still sober to the terrors of the world — and it's beauty — and knew that Lawrence Ferlinghetti's life was both imagined and real, bringing many of us along on The Cyclone ride with him, inspiring us to extend our arms and our reach as far, and for as long, as we could.