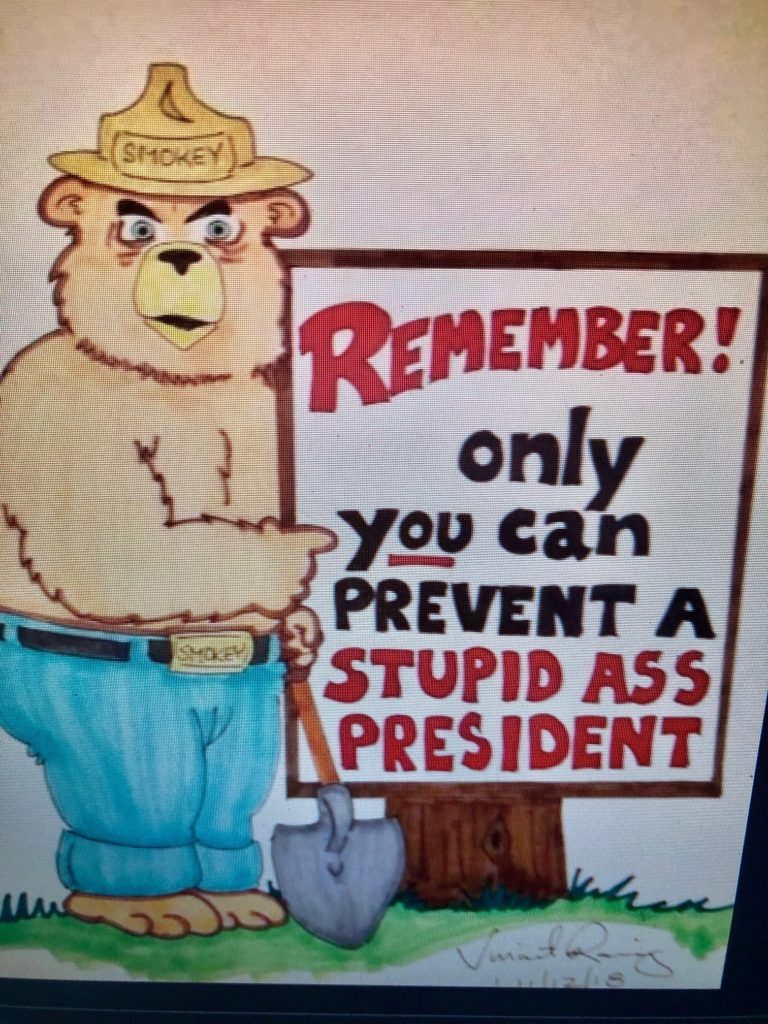 The Fake's Progress
(Inspiration from Igor Stravinsky, and his Opera, "The Rake's Progress)
He came to California,
With a Rake in his small hands;
Discovered his hermetic plane
Had just one place to land.
A field of Federal forest,
Turned to ash by flame;
The only spot without fire,
To show his Orange mane.
The Fake dismounted his steel steed,
No mask, no pussy he.
The towns, the people all did bleed,
Those that did not flee.
The Fake, a Shadow o'er his eyes,
Looked at his forest floor.
The Rake, held high above his head,
Was all they'd get — no more.
"Use your rakes," the Fake did shout,
"The fires are but your fault. "
And when the wind heard this dumb lout,
It roared a new assault.
Fire-nadoes burst from the sky,
The Fake had a great scare.
Then 14,000 lightening strikes,
All set ablaze his hair.
The Shadow swept atop the Fake,
Averting certain death.
A devilish deal was there to make,
To spare the Fake's last breath.
"Your soul is mine," the Shadow said,
"To join your heart's faint buzz."
"Ha!," the Fake laughed in his face,
"You forgot. It already was!"
The Fake's flabby face forced a grin,
Swilling a false victory over his end.
Yet, Shadow would not be denied,
The Fake, no more his friend.
He dropped him into Bedlam,
No Stones to Bread would be.
Abandoned by his shrillest fans,
The Fake dissolved, you see.
And what about his Rakes?
What progress did they make?
They symbolized the fraudulence,
Of the fatuous, flatulent Fake.