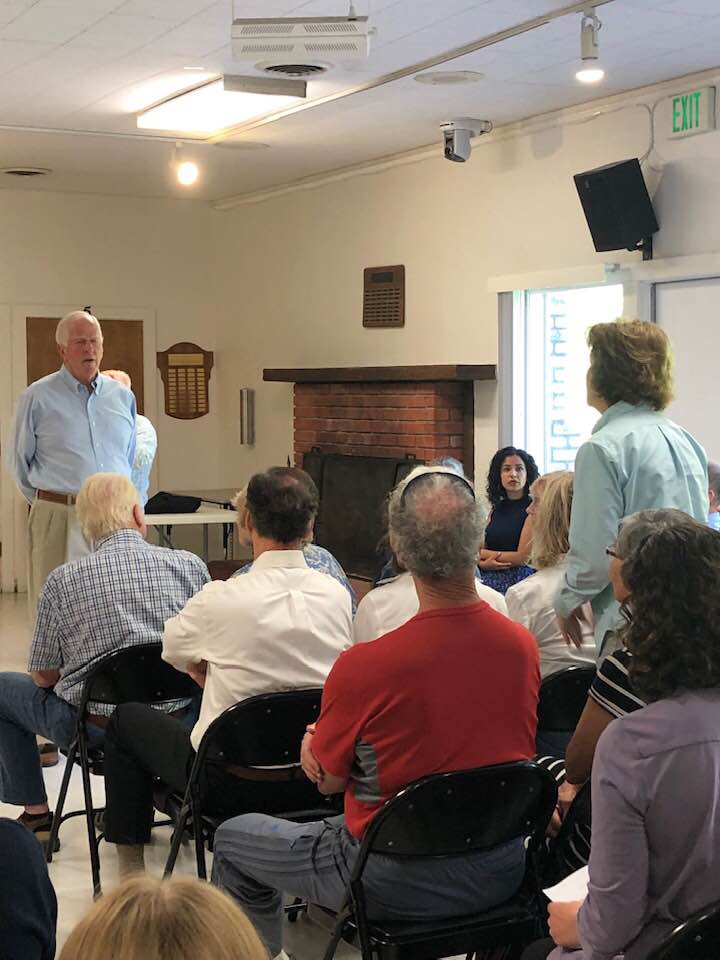 (A constituent of Congressman Mike Thompson's (D-Napa/Sonoma Counties) strongly urges him to get off the fence on Impeachment)
It was painful to witness.
I like our local Congressman Mike Thompson. A Vietnam War Veteran who won a Purple Heart, and has a strong record both for environmental protection and common sense guns laws, Mike always shows up for the community. I first met him at an event at Congregation Beth Shalom in Napa a few years back. He is approachable, listens well, and genuinely cares about human beings. I lived in Jerry Nadler's Congressional District on the West Side of Manhattan and in Nancy Pelosi's district in San Francisco, before moving up to Napa. Thompson is in a class with the best Members of Congress. So, I do like Mike.
That's why it was so tough to see him being so out of touch with many of us who have consistently supported him at his packed Town Hall meeting at the Calistoga Community Center in upper Napa Valley this week. The standing-room-only crowd was full of people of all ages, mostly white and Latino, with young parents holding their children, and older citizens holding copies of the Mueller Report. The overwhelming majority of us wanted Congressman Thompson to get off the fence, and support an Impeachment Inquiry of the President.
I asked the first of a flood of Impeachment questions, and his rehearsed response was less than satisfying to many of us.
"I don't think an Impeachment inquiry does anything more for us than the present committee investigations underway," Thompson said, noting that he was on the House Ways & Means Committee that was demanding Trump's tax returns.
"I also don't want to risk losing the House Majority that Speaker Pelosi worked so hard to get," he added several times throughout the meeting.
Thompson was patient in hearing all of us out, giving some of us an opportunity to ask more than one question, even if it was another question about Impeachment. I pressed him again on his "go-slow" mantra.
"To clarify, Congressman," I said, "there are many lawyers and legal scholars who believe that there is a significant difference between what Congress is doing now, and the fact that an Impeachment Inquiry would be a judicial proceeding, entitling Congress to Grand Jury information and preventing the stonewalling that's now occurring from the White House. It's just a much more powerful investigative tool to get the evidence."
Thompson responded with a chuckle that "lawyers can disagree," without acknowledging that an official Impeachment proceeding gives Congress far more authority to proceed, and that its' subpoenas must be obeyed.
A young father standing behind me, holding his toddler, was much more direct.
"Congressman, " he said, " we greatly appreciate your meeting with us this morning, but it's very clear that regardless of what the House Leadership might want, your bosses — that's us — want you to support Impeachment." The young father received a round of applause.
Just then, a CNN bulletin came across my I-phone's newsfeed, announcing that Rep. Salud Carbajal — who represents Santa Barbara's Congressional District — became the 118thDemocratic Member of Congress to announce his support for an Impeachment Inquiry. I raised my hand and informed Congressman Thompson that there was now a majority of House Democratis supporting Impeachment, correcting an error he made earlier when he told us that "only" 112 of his colleagues were supporting Impeachment.
"I'm still going to stick with Speaker Pelosi," Thompson said. "She got us to where we are, to be the majority in the House."
Mike Thompson's statement was not entirely accurate. WE, his constituents, and people just like us all over the country — deeply concerned over the future of our democracy — got the Democrats to be the majority in the House last year. We travelled to swing Congressional Districts in California and around the nation to knock on doors. We made phone calls and addressed letters to thousands of voters in cities, towns and suburbs from coast to coast. We donated thousands of dollars to crucial Congressional races in California, Iowa, Texas, Georgia, Florida and every other place where Democratic candidates stood a chance to win back the seat.
In the end, it was OUR hard work, commitment, money and sense of urgency that resulted in the Democrats winning 41 seats in the House of Representatives to flip the House and save the nation. And we did it, because Donald Trump has already done enormous damage to the country, is unfit for any public office, and must be Impeached. Just look at the harm to human life Trump's hate speech against immigrants did in El Paso this weekend, where 20 people were slaughtered by an act of Domestic Terrorism aimed directly at immigrants and Mexicans — the very people Trump has vilified. We must hold him directly accountable for his hate speech which contributed to their deaths.
Despite Congressman Thompson's lament that the US Senate would never remove Trump, it's not important whether the Moscow Mitch McConnell-controlled Senate gets to vote. In fact, a smarter House Democratic strategy would be to conduct the Impeachment inquiry over the next year, continue the investigations, release all grand jury reports, tax records and documents, then draft the articles of impeachment, and submit them to ALL Americans — not just to financially conflicted Senators — the week before the Election, in November 2020, after both Houses of Congress have gone home to campaign. Allow us Voters to be the final arbiters on Impeachment, but, as with any judge or jury, we cannot do it without all of the evidence that only an Impeachment inquiry can properly obtain.
I like Mike, but I love my country more.