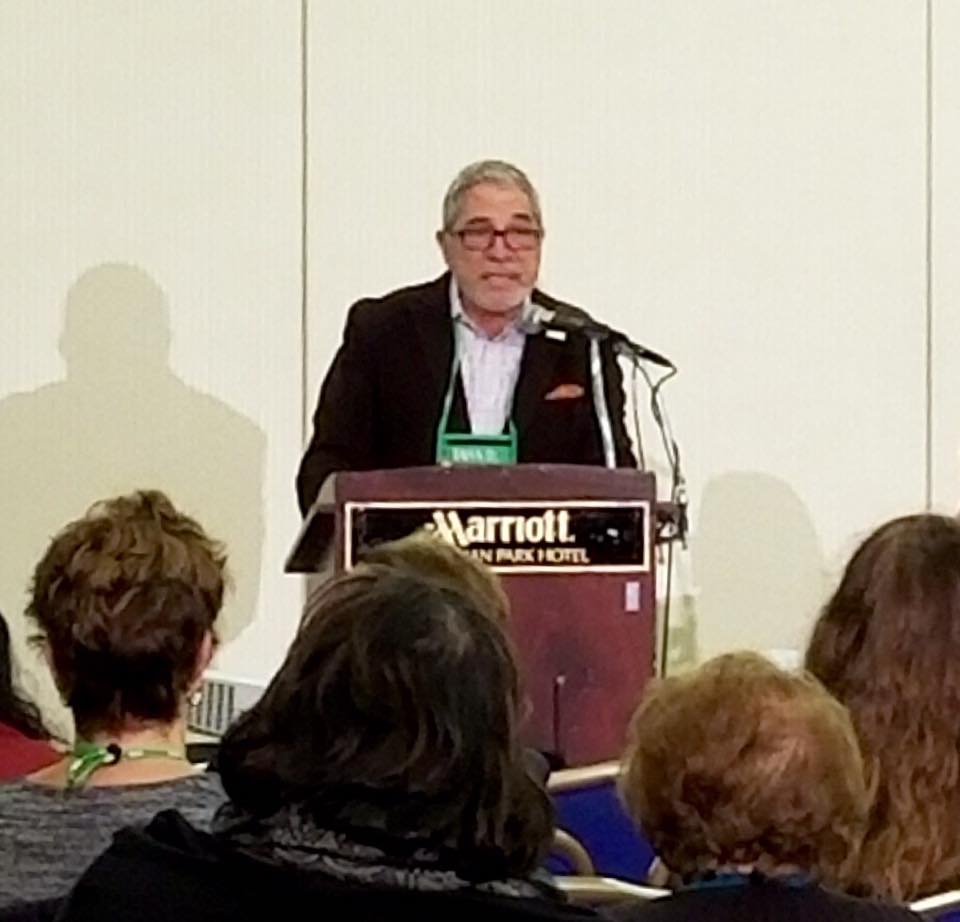 (C-SPAN taped "Tightrope" author Steve Villano at the 50th Annual Italian American Studies Association Conference, in Washington, DC.)
Washington, DC – Heliotrope Author Steve Villano reached a new milestone this month for his memoir Tightrope, reading before an audience of academics and authors at the 50th Annual Italian American Studies Association Conference, a major ethnic studies conference. Villano's presentation was filmed by C-SPAN at the conference on Friday, November 3, at the Omni Sheraton Hotel in Washington DC, for airing on their "Book Talk" Series at a later date.
Tightrope: Balancing A Life Between Mario Cuomo & My Brother, has been called "riveting", "amazing", and "a memoir that reads like a thriller." It is the true story of two Italian-American brothers living dramatically different lives, with one working for former New York State Governor Mario M. Cuomo, and the other associated with John Gotti and the Gambino Crime Family.
Ken Auletta, author of five national bestsellers, and he writer of The New Yorker's "Annals of Communications ," since 1992, offered this high praise for Tightrope:
"What an amazing book you've written. Mario Cuomo would have cheered. As impressive as your writing style, what blew me away was the honesty, your willingness to dig deep and share with readers your love and distain for the mob choice your brother made, your unabashed admiration for Mario Cuomo,and your inner turmoil throughout. To weave all this into a book, plus the stereotyping of Italian-Americans, is quite a feat. Congratulations!" — Ken Auletta
The Italian American Studies Association conference where Villano read from Tightrope is among the largest gatherings of Ethnic Studies and Italian American Studies professionals and academics held in the United States. This year's conference–which drew representatives from some 50 U.S. colleges and Universities– was held in Washington, DC, November 2-4, in conjunction with the annual meeting of the National Italian American Foundation (NIAF), with the theme: Faith, (Ir)reverence, and the Italian Diaspora: Fifty Years of Italian American Studies.
"I was deeply honored to have the opportunity to read from Tightrope to academics from Ethnic Studies programs across the country," Villano said. "I will work hard to bring Tightrope into college and high school classrooms, since we need to make the next generation more aware of the pernicious effects of ethnic stereotyping and discrimination."
(Excerpt from presentation to the 50TH ANNUAL ITALIAN AMERICAN STUDIES ASSOCIATION CONFERENCE in Washington, DC, November 3, 2017:)
"THE TIGHTROPE ITALIAN AMERICANS TREAD WHEN ORGANIZED CRIME TOUCHES US:"
Federal District Court, Uniondale, summer 1988. I sat shoulder-to-shoulder with my 22-year-old nephew, Michael Jr., struck by his resemblance to JFK, Jr., and also to my brother at the same age: jet black hair, large dark eyes, and a dazzling, kind smile. Michael and I listened to federal prosecutors lay out their case against his father and my brother.
Earlier that morning Governor Mario Cuomo had called me at home. After three years of working nearly round-the-clock with Cuomo at the Governor's Two World Trade Center office—even sleeping over in my office during snowstorms—I was now his "man" at the Long Island Power Authority, laboring long hours to shut down the Shoreham Nuclear Power Plant for health and safety reasons.
"You do good work, Steve," the Governor said. "You have great, great ability and a great future. It's a pleasure working with you."
"You have a pretty good future yourself, governor," I said.
"Oh, no. I have no future, Steve," Cuomo joked. "But you," he said in a serious, almost fatherly tone, "you have a wonderful future."
Ninety minutes later, that bright future collided with my brother's present. I was sitting in a federal courtroom, hearing government prosecutors ask an FBI agent if it was true that my brother was a bagman for John Gotti, collecting money from union officials to "buy labor peace." Gotti and Villano: both names spoken in the same sentence by a federal law enforcement officials. My brother linked to Gotti; I linked to Cuomo. These were only allegations, I kept telling myself. My brother was not guilty of anything; he could not be; he was my mother's son.
Mario Cuomo detested the "bums" in organized crime as much as I did. He was incensed by the mob innuendos about him or anyone in his family. Even the expectation that he had to answer any questions about it outraged him, since he believed that his whole life "has been a statement against that crap."
What if my family name became "the issue?" Would he keep me on staff? Would I have the courage to leave the public service work I loved? I felt naked; nothing left to protect me: not my carefully calibrated career, not my conservative clothing, not my law degree. Nothing. That was my brother up there. We shared the same blood, the same last name. For years, we shared the same bedroom, with different dreams, at the top of the stairs in my parents' house: Michael, my brother Vinnie and me; our lives intertwined.
I looked around Judge Mishler's courtroom, and winced as I heard our name echo around the room, bouncing off a bench, a chair, the judge's desk. If only I had a sponge, I would scrub the walls, the seats, and make our name vanish from every surface it touched. I wanted everything to disappear, but could not keep myself away from the courtroom. I had to find out what I suspected, but denied for years.
###
Tightrope: Balancing a Life Between Mario Cuomo and My Brother by Steve Villano
978-1-942762-42-3 trade paperback; 268 pages; $16.50 • 978-1-942762-41-6 eBook
June 2017, Heliotrope Books, LLC • heliotropebooks.com
Or, order directly via my website at www.socialvisionproductions.com.